Combining my love of handmade crafts and doll collecting, I have opened Eva's Doll Shop in which I make Raggedy Ann and Andy Dolls.
I also collect and restore old dolls of all kinds.
These dolls make the perfect gift for the young and the young at heart.
They can bring back memories of your childhood or start new memories for your child.
The dolls pictured in this website are actual pairs of dolls I have made.
Raggedy Ann has the traditional red flowered dress and white apron, with the red heart and "I love you" embroidered on her body.
Raggedy Andy has the blue pants, the red checkered shirt, and blue hat with white band.
All dolls have hand embroidered faces and yarn hair.
I accept checks or money orders, and ask that you allow 2 to 3 weeks for shipment.
Just send your order via email to: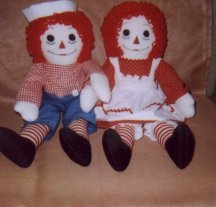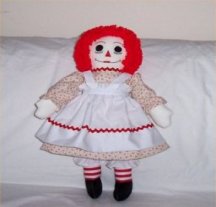 Prices of the dolls:
25 inch Doll---35.00 each
20 inch Doll---30.00 each
Please add $10 shipping to each order. Thanks
I now have my site on my own domain, please visit at Eva's Dolls
Eva McCarty
PO Box 7
Hurdland, Missouri
63547
Phone: 660-423-5441
GREAT LINKS
AnewDoll

&copy Copyright Eva's Doll Shop, 1997-2005
Design by Marilyn's Web Design